Data Analysis
Analyzing data from Hotjar and Google Analytics
We focused on a time frame of one week, 9/24 - 9/30 for our analysis. We looked at the various heat maps in Hotjar and devised our initial hypothesis and findings. Since about 64% of the website visitors were desktop users and our time frame so brief, we focused our attention on the desktop experience.
The role of navigation menu in the user flow
Immediately after looking at the heatmap from Hotjar we noticed that ~43% of the total clicks on the homepage were happening above the average fold on the desktop website and a large majority of which where contributed by the navigation menu. In conjunction with this model the movemap also reflected that most of the movement happened on or near the navigation menu.


In addition to this the two most clicked menu items were "Articles" and "Search". So in order to better understand the user journey after clicking on these particular menu options we looked at the data from Google Analytics. To our surprise we saw a huge drop off rate of 94% after users clicked on "Articles" or "View all articles". We also noticed a huge drop off rate between users who click on the search icon and the users who actually execute a search.


Lastly we saw a direct correlation in the user drop off rate and the number users visiting just one article. The scrollmaps helped us realize that the root cause of the problem was the location of related articles section. Since only an average of about 46.8% users get to the bottom of the page, more than half of the users never see the related articles section which indeed points out to low engagement.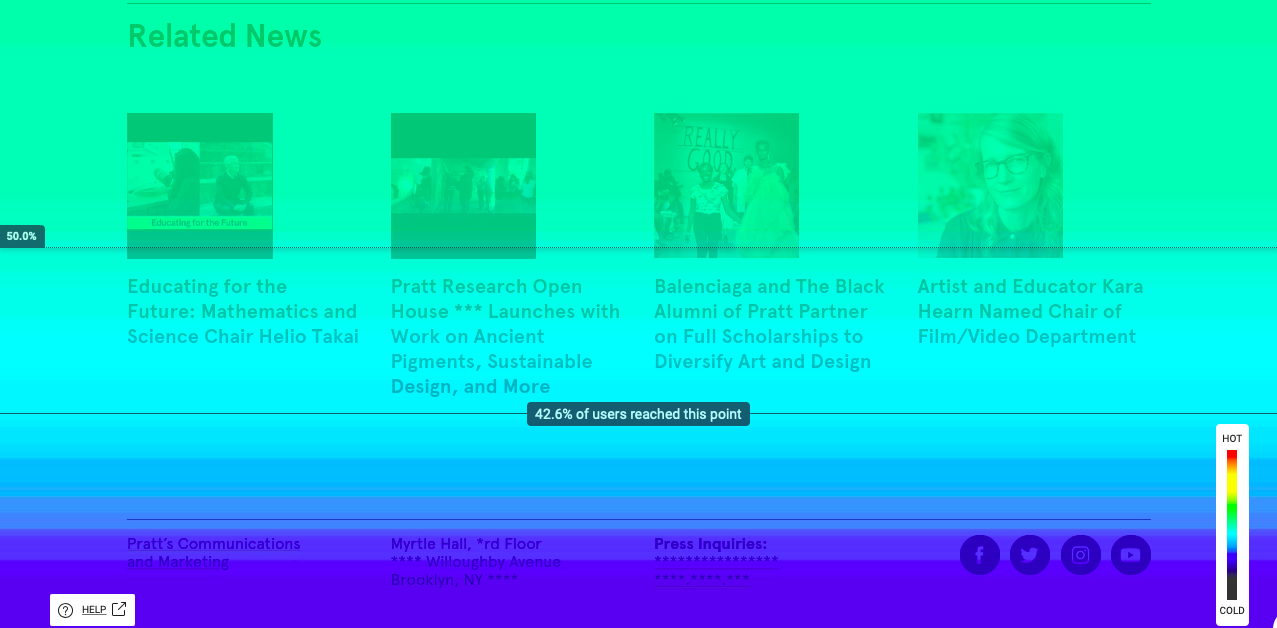 General Findings
Here is the summary of our high-level findings from the entire website:
On average 43% of users clicked on the main navigation bar to move from one page to the next. 83% of total users scrolled below the average fold.
The search icon is the most clicked (6.6% of site visitors) within the navigation menu. However, we see a significant drop-off between users clicking the search icon and those who complete a search (1.7% of visitors).
An average of 46.79% of Desktop users see the Related News articles after reading an article, with a range of 34% - 64%.
11% of the total clicks on the homepage are made on "View all articles". But they are more likely to drop off soon after going to the linked page. But more than 94% of the user are likely to drop off from the articles page.